by Conrad Zurini
Have you ever been on holidays and bought something that totally reminds you of the place you were visiting. I especially love watching people when they come back from an exotic destination wearing something from the spot they visited. In the moment, you are convinced that purchase is the right thing to do, and more importantly, you are going to be so cool when you wear it back home. It's like buying an Australian hat from the outback and sporting it on your flight back home. I hate to admit it, but I too have been that obnoxious person.
If you have ever been to the Calgary Stampede you will understand what I am about to tell you. I have been to the Calgary Stampede a few times in my life. The first time I went by myself. Everyone around me advised me that I needed a Stampede wardrobe, and they gave me all sorts of advice about where and what to get. I did not heed anyone's so-called wisdom and I did not bring any western gear. Just me in some black jeans and a t-shirt. If you have ever been to the Stampede you can't help but notice that everyone is a cowgirl or cowboy. It's like everyone is re-living their childhood fantasy of being a ranch hand, and with the popularity of Yellowstone, I'm afraid to see how many Rip Wheelers there are roaming the streets of Calgary at this year's rodeo.
When I went to my first rodeo as 'just me', I never felt more out of place in my life. It was like wearing a Habs jersey at a Blue Jays game. Everyone was dressed in 1889 western garb, there with a sea of plaid and plenty of fringe to go around. And the boots, let's not forget the cowboy boots, in all shapes and colours, the louder the embroidery the better. I felt like the emperor with no clothes, and so out of place that I was ready to do something about it. Off to Lammle's Western Wear I went, one of Calgary's most famous western outfitters, and I bought so much that I had to buy another suitcase to bring it all home. And yes, I did wear the obnoxious cowboy hat on the plane because I was so worried I was going to squash it in my suitcase.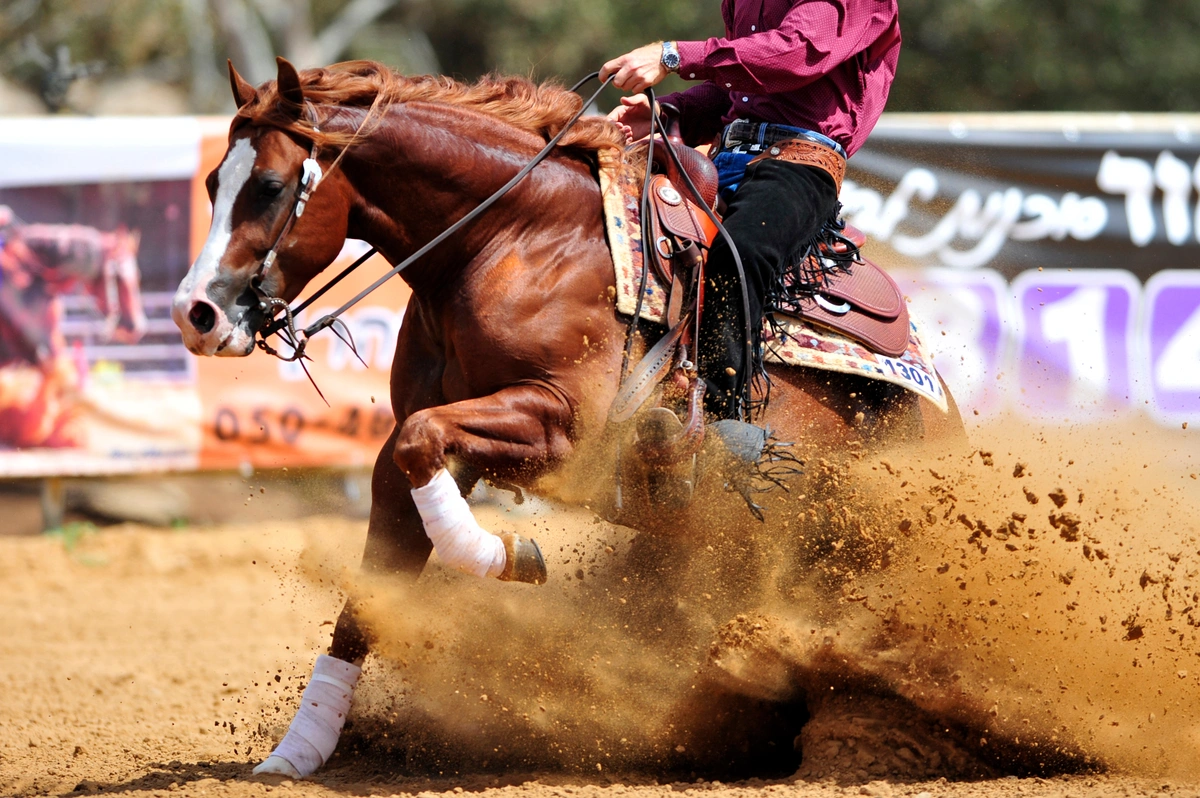 It seems that there is plenty of advice and information about the real estate market to go around, and more specifically about mortgages. So many so-called experts and pundants are giving their 2 cents about how to interpret what is happening that I felt it was important to pull some interesting facts and weigh in on some important strategies to get us through the 'Bucking Bronco' that is the market.
The Outlook for Real Estate in Canada is Super Strong
Currently, the Canadian population in real time was 40,200,261, and according to Statistics Canada is growing faster than any other G7 nation. In 2022 our population jumped by over 1 million people, with immigration accounting for 96% of growth. Our population is growing, but household size is shrinking. Back when the boomers were starting their families the average household size was 2.9 people per home, today its 2.5 people per household. That's good news and bad news at the same time. You see, less people per household means a larger demand for even more housing.
Back in 1960-61, when most boomers formed their families, the Canadian population was just under 18 million. If you take that population and divide it by 2.9, there would be 6.2 million households in Canada. If you applied the current household numbers of 2.5 to the population of 1960-61, you get 7.2 million households, that's 1,000,000 more domiciles which would be required. Let's take the current Canadian population of 40 million, and if we take the household size of the early 1960's (2.9) that would mean there would be almost 13.8 million households, use today's household composition and we need another 2.2 million homes. The writing is on the wall, household composition is shrinking while the population is growing, which means demand for housing is going to continue to skyrocket.
With home completions in Canada hovering around 250,000 units, and 400,000 homes needed to house the 1,000,000 immigrants coming in, we are short 150,000 units. Simple economics tell us with supply outstripping demand by 38%, like my calculations above, the demand for housing and for all goods and services which orbit our industry, will be astounding.
Now is the Time to be Creative with Home Ownership and Be Strategic About Financing
Let's face it real estate has always been, and will always be a financial vehicle for many Canadians to create wealth for themselves and for their families. Who said wealth creation was a passive exercise? The market moves in different directions, it is important to be a strategic investor, even with your principal residence. Co-ownership with friends and family; create an AirBnB unit in your own home, even if you do not put it on AirBnB; you give the next buyer that opportunity. Some lenders will lend based on future rental income, take advantage of purchase and improve programs, to create an accessory rental unit. And remember, what goes up eventually comes down when it comes to mortgage rates, but the same isn't true for the most part when it comes to residential real estate. Don't wait for interest rates to soften to buy, enter the market now while you still have wiggle room, and prices are rising in a more realistic pattern. In other words, don't wait for the proverbial shoe to drop, take shorter term mortgages to ride out the uncertainty, while rates and inflation begin to stabilize.
When in Doubt Ask Google Trends
I get a real kick out of Google Trends every once in a while, it's like I have some special window into what people are searching. We all have access to it, and it's cool to see how the news cycle affects people's search patterns. Pre-covid all of us were oblivious to the real estate market and mortgages, the two terms operated in tandem, but never intersected until March 2020!!!! As you can see by the Google Trend graphs (see below), it wasn't until the last 4 years that the two terms began to cross paths in a very interesting way. When you look at the last few weeks when it comes to these two search terms, 'Mortgage' searches shot up at 5 am on the morning of July 29th, which is strange because the Bank of Canada announced two weeks prior, on July 12th, and the US Federal reserve announce their rate increase on July 26th, 3 days prior. Hmmmmmm.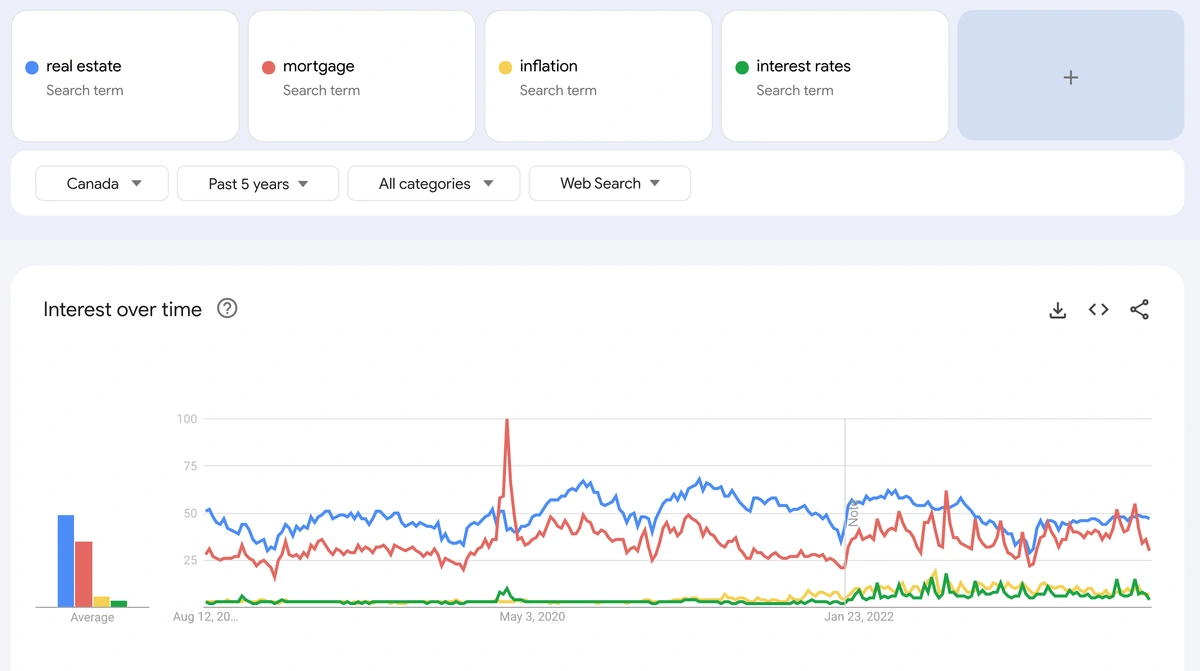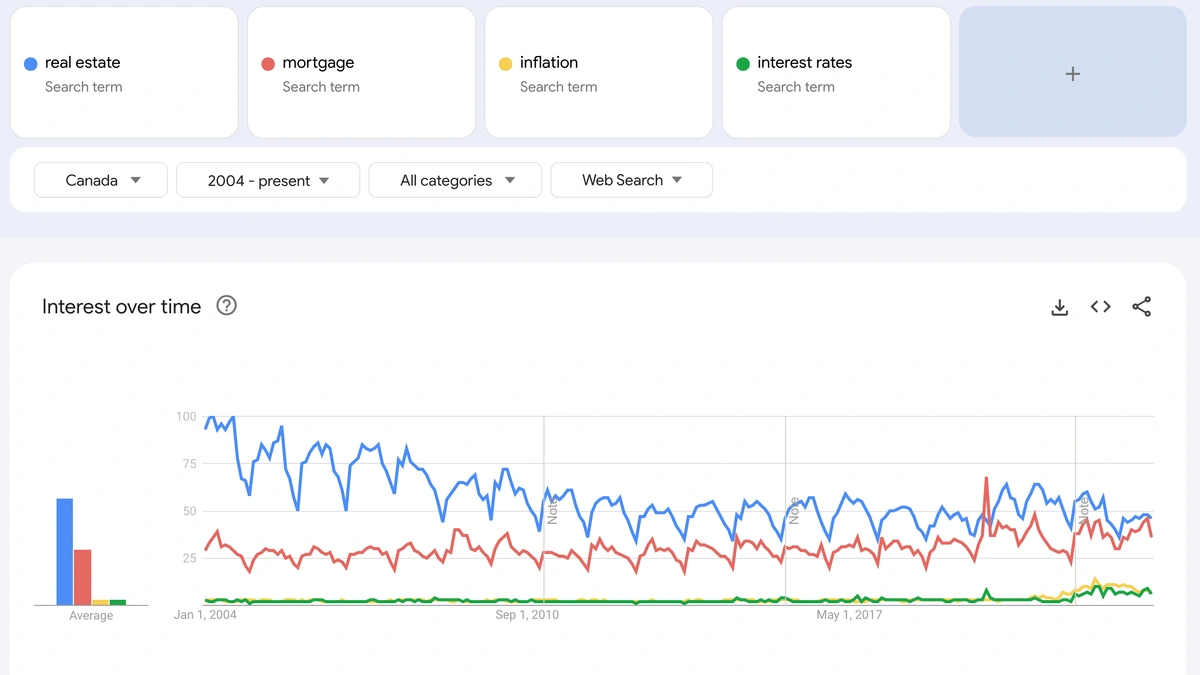 I feel like I am sometimes beating (flogging) a dead horse, wait…..would that expression be politically incorrect? I'm sure that any animal rights group would have something to say about that, but I digress. In other words, I've been repeating the same song over and over about how consumers crave information and that the collective 'we' in the real estate industry should be front and centre with tangible interpretations and strategies, when there are forces in our industry which cause it to pivot. You should be checking Google Trends on a regular basis to see what is on your consumer's minds in real time.
Canada Wants Your Vacant Bedrooms
I didn't believe it when I read a recent article in the Globe and Mail (July 5, 2023) by Rachelle Younglai about the Canadian Census keeping track of how many vacant bedrooms we all have, and that they have been collecting this data since 2006. The census has uncovered a vast resource of extra bedrooms, and found that couples and singles who live in homes with extra bedrooms has increased to 29% in Canada in 2021. 
You can also go on consusmapper.ca and find out "a lower bound on the percentage of empty bedrooms in occupied dwellings in (your) area", via an interactive map. Who, why or what organization would want this data? It's not like they can do anything with it, or could they? They are taxing vacant homes, could they start taxing vacant bedrooms too?
Business Planning 101 for Landlords
For the better part of my career in real estate most landlords were able to turn some sort of profit when it came to their investment properties. However, in recent years, especially during this recent round of rate hikes, it has become more difficult to break even when it comes to an investment property. In a recent report by CIBC and Urbanation, it was found that 52% of investors/landlords in the GTA were cash flow negative, despite rising rental rates. An investor can deduct the costs of interest on their mortgage payments, along with other expenses, however CRA wants to know if you have a plan to curb your losses. Apparently, CRA is mailing out questionnaires to investors asking for business plans. In other words, they want to know when you plan to start paying them.
Question 17 of this questionnaire asks, "Provide a detailed projection of how you intend to develop your rental operation into a profitable enterprise." It seems like they are going after investors who claim heavy loses in order to see whether they are really in business to generate income, or if they are all about selling the property for a profit. In that case, is the sale subject to capital gains or pure business income. The fundamentals of our economy will overtime correct these losses, unemployment is low, household creation is growing, interest rates are either at their peak, or very close to it, and rental rates are on the rise, which means better sailing for landlords. 
When Are We Going to Experience the Dog Days of Summer?
As we retreat to the midpoint of summer, our friends at the Canadian Real Estate Association (CREA) have re-jigged their forecasts for unit sales in Canada, attributing interest rate increases as the main factor cooling off buyers. In April of this year, CREA was forecasting a 1.1% decrease in sales, as of mid-July they are predicting a nearly 7% decrease in properties trading hands this year. Our property sales numbers just came in (01/01/23 - 07/31/23) and I am happy to report that we helped 8421 individuals and families achieve their real estate goals so far in 2023. That's 890 more (up 12%) than we did in 2022!!!